No worries for Repsol in Venezuela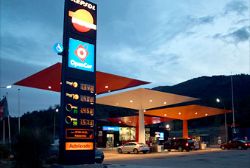 President Hugo Chavez ruled out on Friday any retaliatory measures against Repsol's interests in Venezuela as a result of its legal battle with his ally President Cristina Fernandez's government in Argentina. "Do you think that if Repsol saw any danger for its investments in Venezuela, they would come and sign another agreement?" he told reporters, referring to recently-signed new agreements relating to a gas project. Last month, Chavez advised the Spanish energy company to seek a friendly agreement after Argentina nationalized its local unit, YPF, in April.
Repsol has sued for €10 billion in compensation and taken steps to file for World Bank arbitration.
Fernandez, one of Chavez's most important allies in Latin America, said Repsol had not invested enough in YPF and had allowed crude production and exploration to decline.
"We are friends of Repsol, we are allies and friends of the Argentine Republic. What I have done is make a reflection and send a message to Repsol, I don't think it's the right thing to go to international arbitration," Chavez told reporters.
"We think it's a bad sign that Repsol sues Argentina at an international tribunal because that shows that if any dispute arises with us tomorrow or after, would they go there and do the same? Let's fix this as allies is what we propose."
Chavez, who is Washington's most vocal critic in the region, has nationalized large swathes of Venezuela's economy including most of the oil industry during his 14 years in office.
Repsol and Italy's ENI signed a major deal last year with Venezuela's state oil company, PDVSA, to develop the OPEC nation's Perla offshore natural gas field, where they have certified more than 15 trillion cubic feet.
Repsol also has an 1% stake in Carabobo Project 1 in Venezuela's extra heavy Orinoco crude belt, where reserves are seen at 31 billion barrels and output at 400,000 barrels per day. The company has said it expects to invest €15 billion in Carabobo.