Spain awaits ECB plans before deciding aid request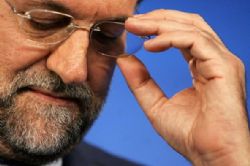 Spain's Prime Minister Mariano Rajoy said on Tuesday he would wait for the European Central Bank to detail its plans before taking a decision on seeking further help from the European Union to ease his country's high funding costs.
After a meeting with Spain's King Juan Carlos during his summer break, Rajoy was asked by a reporter whether the pair had discussed the possibility of a second bailout.
"Until we know what decision the ECB has taken on this matter, we aren't going to take one either," he said.