Argentina complains about Spanish biodiesel rules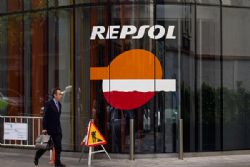 Argentina has filed a complaint against the European Union at the World Trade Organization to challenge Spanish rules that the South American country argues discriminate against its biodiesel exports, the WTO said on Monday.
The dispute comes after the EU filed a complaint against Argentina's import licensing rules, and underscores a deterioration in trade relations since Argentina seized control of oil company YPF, a subsidiary of Spain's Repsol, in April.
By "requesting consultations" at the WTO, Argentina is giving Spain 60 days to show its rules are fair. If it remains dissatisfied after that period it can ask the WTO to set up an adjudication panel which could force Spain to bring any discriminatory laws into line with the world trade body's rules.
Argentina says the trade restriction, introduced in April, would completely block its biodiesel exports to Spain. It has previously called the rules "protectionist", warning they could cost it $1 billion per year in lost export earnings.
Spain's rules are part of the Renewable Energy Directive which is being implemented in all of the EU's 27 member states. It aims to increase biofuel use - in line with national targets - and to increase the security of energy supplies.
Argentina's Foreign Ministry said in a statement that the Spanish rules were an attempt to stop developing countries gaining more control of global value chains and evolving beyond their role as suppliers of raw materials.
An Argentine trade official told Reuters in June that the biodiesel trade was equivalent to 20-30% of exports to Spain. He said Indonesia, another major biodiesel producer, was also opposed to the Spanish rules.
EXTRA TRADE FRICTION
Although Spain is the target of the complaint, the EU represents its interests at the WTO.
"The EU takes note of Argentina's decision to request WTO consultations on the Spanish Ministerial Order of 20 April 2012," said EU Trade Spokesman John Clancy.
"We will engage in good faith in the consultations, which we hope will be fruitful. We are in close contact with the Spanish and the Argentinian authorities on this matter."
The growing importance of environmental law in recent years has added to trade friction because the WTO allows countries to break trade rules in special cases, including for environmental, security or religious reasons.
However, countries citing such pretexts have to be able to justify their rules and show they are proportionate. In another current WTO dispute, China has justified its crackdown on rare earth exports on environmental grounds.
"The green energy sector is becoming increasingly the subject of many trade disputes, as we have seen with other cases affecting bioethanol or the solar and wind energy industry," said Vasiliki Avgoustidi, an associate director at Berwin Leighton Paisner LLP.
"Major trading partners have been accusing each other, in the last 2 to 3 years, either for granting green subsidies or raising trade barriers or so-called green protectionism.
"As for biodiesel, you may remember that the European Commission imposed in 2009 anti-dumping and countervailing duties to U.S. biodiesel and has effectively closed the EU market to most U.S. biodiesel producers."
Anti-dumping and countervailing duties are used to combat imports that are suspected of being so unfairly priced or subsidised that they will damage producers in the market to which they are imported.