Credit rating of Catalonia downgraded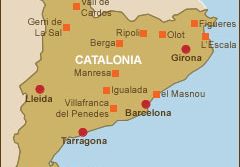 Yesterday Standard & Poor's credit ratings agency lowered both its long and short-term credit ratings on the Spanish Autonomous Community of Catalonia from BBB/A3 to BB/B, placing the region under a "Negative" outlook.
S&P also assigned a recovery rating of '4', indicating an expectation that around 30 - 50% of assets could be recovered in the event of the region defaulting.
By comparison, S&P have assigned a similar credit rating for the region as the countries of Bangladesh, Jordan, Macedonia and Guatemala.
Earlier this week the region of Catalonia asked the central government in Madrid for a bailout of just over 5 Billion Euros .