Benidorm series writer to be honored by Mayor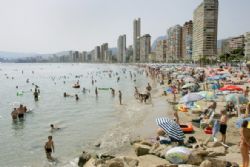 If you are a fan of the television series that created Madge and the Garvey clan you will know the TV Series "Benidorm".
This coming Friday, the 14th September, series creator and writer Derren Litten is to be honoured with a plaque which will be presented by Benidorm Mayor Agustin Navarro and British Consul Paul Rodwell. Also present will be executives from the production company, Tiger Aspect.
But how many would have guessed that when the very first episode of the ITV comedy aired in 2007, it would become the huge success that it is today. To date 5 series have been commissioned and produced by Tiger Aspect. Even celebs are vying for cameo appearances which to date have included Matthew Kelly, Cilla Black, Kate O´Mara, Wendy Richards, Sue Pollard amongst others.
And it is all thanks to Derren Litten, that he chose the resort to base the series in. Although a popular destination before the program, the popularity of the series catapulted bookings and continues to do so each time a new season hits the screens. This is obviously good news for local businesses – particularly those around the Sol Pelicanos Hotels and Morgans Tavern – the setting for 'Neptune's Bar' in the series.
Earlier this year Irena Bodnarec - local Businesswoman and owner of Benidormallyearround website – proposed some kind of acknowledgement for Derren Brown for his contribution to tourism in the resort. Both the Mayor and tourism office were keen and enthusiastic with the proposal, which led Irena to then contact Tiger Aspect Productions and the British Embassy in Alicante to make this happen.
The official unveiling of the commemorative plaque – which is to be located between Morgan's Tavern and the Sol Pelicanos Hotel – will take place at 12.00 Noon on Friday.