Castellon Airport sculptor to sue for defamation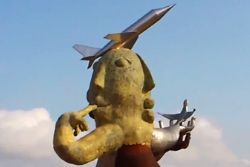 The sculptor of the hugely controversial statue placed in the center of the roundabout outside Castellon airport has denied that his piece is rusty, and has branded his critics as "uneducated scavengers".
Juan Ripollés, defended his sculpture after the provincial spokesman for the Compromis, Carles Mulet, claimed that it was rusty barely 2 months after being unveiled.
The 25mt high, 20 tonne bronze statue was originally expected to cost €300,000 but ended up being €127,000 over budget.
Rippoles insisted that the brownish-orange appearance of the sculpture is it's natural and intended colour, and claimed that the comments had been generated by "uneducated scavengers" who had a political agenda in wishing to condemn anything connected to the airport.
The artist is considering whether to sue for defamation.