Corvera Airport Issues New Opening Target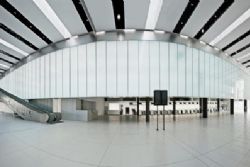 Officials from Corvera airport, Murcia have confirmed a new target opening date of April 2013 following successful negotiations and tests with the military.
Corvera Airport, previously a military airport developed into civilian use, had missed several opening targets because of disputes with military chiefs who currently control the airspace around the new airport.
In addition, Corvera Airport was recognised as a strategic air force base for NATO operations in the Mediterranean, North Africa and Middle East.
After several meetings and discussions, a new agreement has been forged whereby air force operations will take full control of San Javier airport.
However, the military will retain control over the upper and lower layers of airspace around Corvera Airport, but surrender the middle layer for civilian flights.
The announcement effectively brings to an end months of speculation that the airport would never actually open despite several millions of Euros being invested and the Regional Government of Murcia acting as guarantors to massive loans.
All that remains is a plan by which civilian operations are transferred from San Javier Airport to Corvera Airport, a massive undertaking which will need to be managed by AENA and the Ministry for Development.
Read more about Corvera Airport in our Tumbit Topic page .