Murcia Socialists blame President for Corvera Airport mess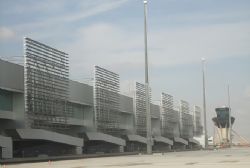 The Secretary of the Socialist party for the region of Murcia, Rafael González Tovar, today blamed President Valcárcel for causing the "mess" with Corvera Airport, saying how it was a grave error of judgement in not consulting with AENA from the very start of the process.
Tovar was speaking about last week's announcement that San Javier and Corvera may operate simulatenously for up to 6 months until a transition between the 2 airports can be finalised and a compensation package for AENA can be agreed upon.
He reminded the public that AENA had continued to invest €70 million in San Javier airport ever since an agreement to build Corvera airport had been signed between the Prime Minister Aznar, and President Valcarcel back in 2000.
Tovar also reminded Valcarcel that the Socialists never wanted a new regional airport for Murcia, and that the success of the private company who own the airport - Aeromur - is being held back by regional politics and bureaucracy, which could and should have been foreseen.
"Every two or three months the situation changes, and now we find that it is costing us all more money than we were promised - all because the regional government failed to find a solution in advance", he told the press.
A spokesman for the regional PP government responded that Tovar was just trying to "hinder the process".