Ciudad Real Airport back in use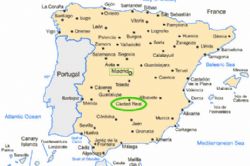 Castille-la-Mancha's troubled Don Qixote-Ciudad Real airport has been put to an ingenious new use.
Spain's first privately owned commercial airport closed on the 21st of April 2012 following an investment of 500 Million Euros, and having only been operational for 3 years, after Vueling decided to cut flights to and from the facility.
The 4km long, 60 meter wide runway - designed to accomodate the Airbus A380 - has now been chosen to test the new Lexus LFA luxury car. The vehicle is designed to reach top speeds of 325 kilometers per hour and will have an accelertion of 0-100 kmh in just 3.7 seconds, making the abandoned airfield the perfect choice to perform the required tests.
Earlier this year acclaimed Spanish film Director, Pedro Almodovar, utilised the unused airport at Castellon as the setting for his latest film "Los amantes pasajeros" (Travelling Lovers).
Nice to see that Spain's private airports are diversifying, if nothing else.