"PSOE must seek confidence of Spain" : Ex PM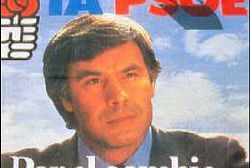 Speaking at an event in Madrid to celebrate the 30th anniversary of the first Socialist Party (PSOE) government in Spain, former PM Felipe González, who swept to power in 1982 with an absolute majority, said that to recover from its current malaise the left must "recover the confidence of the majority."
Current party leader Alfredo Pérez Rubalcaba, who last year oversaw the PSOE's worst return at the national polls since Spain re-embraced democracy, promised "reformist radicalism" as he attempts to reverse its fortunes. Regional elections this year in the Basque Country, Catalonia and Galicia have all served to further erode the party's regional presence - it also came close to losing its traditional stronghold of Andalusia. Rubalcaba went so far as to say the PSOE is now "completely anti-capitalist," because the system does not create wealth but "speculates."
González, who was in power for almost 14 years, said the PSOE should "look at society with a spirit of consensus." Rubalcaba promised to "reflect" on the labor unions' call for a referendum on the policies of Mariano Rajoy.
Also present was José Luis Rodríguez Zapatero, who received a standing ovation for his equality policies while in power. Rubalcaba stated that González's government did not contain a single woman: "Something that would be impossible today."