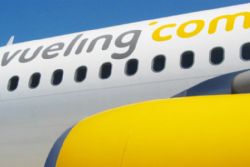 IAG (International Airlines Group) have begun the process of attempting to buy 100% of low- cost carrier Vueling Airlines by seeking authorization for a tender offer from Spain's National Securities Market Commission.
IAG, the parent of BA and Iberia, plans to acquire the 16.2 million shares of Barcelona-based Vueling - equal to 54.14% of the total - that it doesn't already own, it said today in a statement.
Banco Santander has agreed to guarantee €113.4 million to cover the cost of the transaction, or €7 per share targeted, London-based IAG said.
Taking full ownership of Vueling may help IAG cut costs in Spain after it began an overhaul of Iberia that includes the foundation of a low-cost unit there. The company may face opposition to the takeover plan, first disclosed on Nov. 8, from shareholders who have said the offer price is too low.