Spain education plan stokes Catalan tensions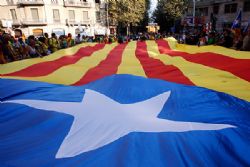 The PM of Spain yesterday vowed to press on with an education reform that has fueled separatist sentiment in Catalonia, where politicians were closing on a pact that could lead to a vote on independence.
Catalan officials say the reform, which would require separate classes for students who want to be taught in Spanish, would undo decades of efforts to preserve the Catalan language. The dispute has enraged Catalans just as the two biggest forces in the local parliament attempt to strike a deal which would include a referendum on independence by 2015.
On Friday Rajoy denied that his proposed reform threatened languages such as Catalan or Basque, but said he was determined to overhaul Spain's education system, which has the highest drop-out rate in Europe.
"Given the results, there is no argument over the (problems with the) current model," Rajoy told reporters in Brussels, where he spoke after a EU summit. Rajoy also said he was "worried" about news reports of progress in talks between the 2 biggest groups in the Catalan parliament.
Republican Left, or ERC, is trying to agree terms for backing a government run by the centre-right Convergence and Union, or CiU, ahead of an independence vote, local media said.
Parties in favour of Catalan independence won a majority in regional elections on November 25, piling uncertainty on Rajoy as he fights a debt crisis that could force Spain to seek an international bailout. Thousands of people marched throughout Spain on Monday to protest the proposed reform, dubbed the Wert Law after Education Minister Jose Ignacio Wert. The law also proposes mandatory college-admissions tests and allowing gender-segregated schools to receive state subsidies.
The biggest demonstrations were in Catalonia, where language has always been a sensitive topic in the centuries-old political tug-of-war between the north-eastern region and Madrid.
Catalan was banned during the 18th century by Philip V and again for almost 40 years during the right-wing dictatorship of Francisco Franco, who died in 1975.
Many Catalans were outraged in October when Wert said the proposed bill aimed to "Spanish-ize Catalan schoolchildren."
"Don't even think of touching our children," said Alfred Bosch, a member of the Spanish parliament for ERC, during a debate on Wednesday. "What are you going to do, put a policeman in every classroom? What planet are you people from?"
Wert met on Thursday with Catalonia acting Education Minister Irene Rigau to try to negotiate over the reforms. But both sides said there was little progress.