Ambulances to start charging for non-urgent calls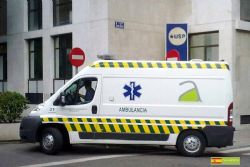 The Ministry of Health is proposing a copayment system for non-urgent use of ambulances at a cost of €5 per call-out.
The idea was included in an overhaul of the sector, approved by the government in April as part of its austerity drive.
The payment system is expected to be passed in the form of an executive order at the next meeting between the central and regional governments, and is due to take place on Thursday of next week.
The text of the order sets the conditions that patients must meet to have access to transportation by ambulance, and the maximum amounts they will have to pay.
It establishes a base price for calculating the copayment of €50, independent of the actual cost and length of the trip. Patients will be asked to pay 10% of that amount per trip, making a non-urgent return journey to and from hospital €10.
The draft order defines 3 types of trip: the transfer of a patient from a health center to his home after receiving emergency treatment or after being released from hospital; those that are "occasional" and those that are "periodic" in the case of chronically ill people receiving, for example, dialysis or cancer treatment.
As with the copayment system for medicines, the order establishes a monthly maximum that patients will be required to disburse on the basis of their income. For those earning between €18,000 - €100,000 the maximum payment per month is €20 euros. For those earning less than €18,000 euros, it is €10 euros, and for those earning over €100,000 the maximum amount payable is increased to €60.