Spain "should take its time to sell Bankia stake"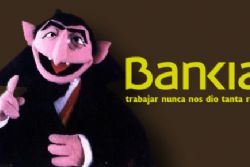 Spain should sell down its stake in Bankia gradually rather than through a wholesale disposal, chairman Jose Ignacio Goirigolzarri said in comments published on Wednesday.
"I would like (Bankia) to be privatised in parts because that would mean it has value," Goirigolzarri said in an interview with magazine Actualidad Economica and published in newspaper Expansion.
"An auction is a possibility, but it is not the main scenario," he said.
Spain's 4th-biggest lender sought the country's largest ever bank bailout in May, when it asked for £19 billion to shore up losses from repossessed property and soured loans.
Bankia aims to return to profitability next year after laying off 6,000 workers and shedding £50 billion of assets as part of a restructuring plan needed for Spain to receive EU aid for its crippled banking sector.
Goirigolzarri, a former head of BBVA - Spain's 2nd-biggest bank, said Bankia had a future and could be refloated like BBVA's Mexican lender Bancomer.
"In Latin America, I learned that it is possible to turn an entity around if you have a big client base, and we have 7.5 million clients," he said.
Goirigolzarri said conditions imposed by the EU rescue would not slow Spain's ability to recover productivity. "I hope that the rest of the system compensates for those credit limits, which will have a contractionary effect," he said.
Bankia was formed by a merger of 7 savings banks, known as cajas, in 2010 and listed on the Spanish stock market in July 2011. Its share price has fallen more than 80% year-to-date to £0.7.
Goirigolzarri said Spain had no choice but to prop up the struggling lender, adding that the initial bailout, which led to the country seeking aid for its financial sector and brought it to the forefront of the euro zone crisis, had been positive.
"We paved the way to realism and that was of great benefit to the financial system and the Spanish economy," he said.