Spain starts heavy borrowing year with crisis-clause bond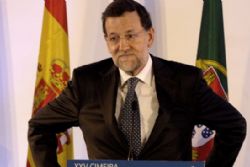 Spain's first debt sale of 2013 is likely to attract enough investors on Thursday to keep the country's borrowing costs down despite its heavy financing needs and the prospect of sustained economic recession. The 3 bonds on offer include the first from Spain to contain a collective action clause (CAC) intended to make it easier to restructure government debt in a crisis.
The Spanish Treasury plans to raise a total of up to €5 billion from this new bond, maturing March 31, 2015, and by reopening bonds due Jan. 31, 2018 and July 30, 2026.
From now on all new euro zone government bonds will carry CACs, the first time such legal provisions have been included routinely in a developed market. The Netherlands issued the currency bloc's first such sovereign bond on Tuesday.
Spain's borrowing costs soared to euro-era highs in mid-2012, easing only after ECB chief Mario Draghi said the bank could intervene in the debt market to help countries that signed up for conditional assistance.
The yield on Spain's 2018 bond could ease by as much as 60 basis points from when it was last auctioned in November, based on trading in the secondary market on Wednesday. There are no recent comparisons for the 2015 and 2026 bonds.
Funding needs are higher this year because the government must redeem more debt and take on debt-raising duties for its regional governments, virtually frozen out of markets.
Spain aims to tap markets for around 10 billion euros a month in medium- and long-term debt this year, though this could become too expensive if yields return to last year's highs. That might force the government to seek European aid.
"The large planned supply of bonds will pose a challenge for the Treasury given that it seems unlikely that Spanish banks will absorb the same net amount of government securities they purchased in 2012," Mizuho bank said in a note.
"A continuation of the recent positive trend in the peripheral bond markets and a growing involvement of international investors are thus necessary if Spain is to avoid an ESM-ECB support programme," it said, referring to the European Stability Mechanism rescue fund.
Yields on the Spanish 10-year bond have eased back from euro-era highs of over 7.6% last July to around 5.1% on Wednesday.
While the Treasury overshot bond issuance targets last year, a shortfall in sales of shorter-term T-bills means Madrid has not yet raised any of this year's borrowing needs.
To date PM Mariano Rajoy has been unwilling to take the major political risk of making an aid request, but while investors remain wary of possible ECB intervention, the Treasury will make the most of relatively low rates.