Spain may need to close a further 15'000 Bank branches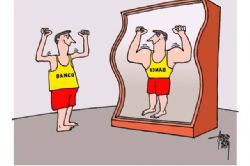 CaixaBank, with 6,631 branches to serve its 13.2 million customers - or 1 branch per 1,991 clients - is looking increasingly ripe for a culling of staff.
This compares to Spain's biggest lender, Banco Santander, with 3,093 clients for each of their 4,752 Spanish branches, and Banco Popular with 3,215 customers per branch.
This low ratio of customers-per-branch, together with an increase in popularity of internet banking and many lenders choosing to merge with each other, means that the country - which already has the highest number of bank branches per head of population in Europe - has an excess to address if the Banks are to remain solvent.
Last week alone Banco Santander announced that it is to close 700 branches and cut 3'000 jobs after fully absorbing its subsidiary, Banesto. This was followed later in the week with NovaGalica Group announcing plans to close 327 branches, with the loss of 2'500 jobs, and Banco Valencia announcing plans to cut 890 jobs.
Yesterday Spain's Comisiones Obreras called protests in 7 Spanish cities as talks begin over Bankia's plan to cut about 6,000 jobs, or more than 25% of its workforce, and reduce its branch network by 39% by 2015.
Spain's unemployment rate currently stands at 26% and banking unions expect 12,000 employees to lose their jobs in the sector this year, adding further pressure on the already struggling economy.
In 2010 Spain had 45'707 Bank branches and 270'855 Bank employees - an average of 1,000 people per branch, the highest concentration in the EU - according to the ECB. The EU average was 2,952 people per branch, rising to 6,000 in the Netherlands and some 5,000 in the U.K.
Even after the closures announced by the 4 lenders already mentioned, Spain will still have one of lowest Branch to customer ratios in the EU and may still have to shed a further 15'000 branches.