Spain sees dryer than usual December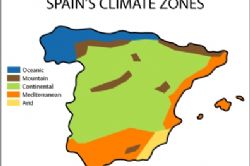 Spain received 42% less rainfall than normal in December while temperatures were warmer than usual, the Agriculture Ministry's weather service reported.
Average rainfall was 47 millimeters (1.9 inches) last month, compared with the normal 82 millimeters of precipitation, the ministry wrote in a report on its website today. Temperatures averaged 8.4 degrees Celsius (47 degrees Fahrenheit), about 0.4 degrees Celsius warmer than usual.
However, just 3 weeks ago the Ministry also reported how 2012 as a whole was the 3rd-wettest autumn this century , with 43% more rain than usual for the period between September and November.