Spain 2012 cement demand falls to +30 year low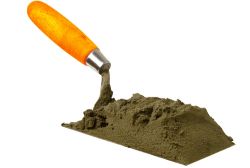 Cement demand in Spain recorded its biggest yearly drop in 2012 since the outbreak of the country's Civil War in 1936 and is expected to tumble another 20% this year in the wake of a property crash, official data showed.
Cement consumption fell by 1/3 to 13.5 million tonnes in 2012 compared to 20.4 million tonnes in 2011, according to data from cement makers' association Oficemen.
"The prospect of recovery for the sector is becoming more and more distant, given current levels of consumption and big falls in demand," Oficemen director general Aniceto Zaragoza said in a statement.
The last time demand dropped by anything like that amount was during the Spanish Civil War, Oficemen said, when it fell by "more than double" 2012's 34% decline. Spain's decade-long housing boom fuelled by cheap credit turned to bust five years ago, leaving over half a million unsold new houses and a vast portfolio of troubled loans.
Cement consumption in December, traditionally a good month for the sector, was lower than expected at 763,000 tonnes - a level last seen in the 1960s.
Exports of cement are falling too, with companies selling just 5.3 million tonnes abroad in 2012, less than half the 13 million tonnes Spain exported in 1983.
Many construction companies, former darlings of the Spanish stock market, have gone to the wall.
Grupo Rayet, leading shareholder in listed real estate investor Quabit, filed for bankruptcy in November.
Quabit's share price has dropped to €0.06 from a 2007 high of €70.
Owner Enrique Banuelos lost his place on the Forbes 100 list of wealthy people when Spain's housing bubble popped.
House prices have fallen around 40% since their 2007 peak. Ratings agency Standard & Poor's said this week that prices in Spain are likely to fall a further 8% in 2013 and 6% in 2014.
After receiving an EU bailout for its crippled finance sector, Madrid has set up a "bad bank" to absorb soured property assets from lenders.
However, the bad bank will struggle to find buyers for swathes of empty land, doubtful loans and unfinished projects, hindering the government's attempts to lift Spain out of an economic crisis that has left 26% of the workforce jobless.