Aeromur renegotiates Corvera Airport loan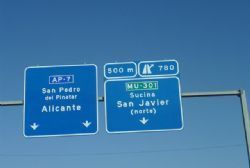 Aeromur - the concession holder of Corvera Airport - intends to refinance the €200 million loan it was awarded in 2010 by a consortium of banks in order that they could complete the project.
The loan was eventually awarded only after a guarantee by the regional government of Murcia.
The fact that the loan will exceed its deadline next month, together with the fact the airport is still not operational - and therefore without means of repaying the loan - means that new terms must be agreed.
When the loan was awarded in 2010 it was agreed that the repayment would be made in full - plus interest - within 3 years of the airport becoming operational. Given that the originally agreed date for opening has been delayed by more than 2 years it is perhaps understandable that the Banks are keen to recoup their investment.
The new terms of the loan are expected to demand full repayment - plus interest - by 2015, regardless of whether the facility is operational or not.
The question now is whether the airport is capable of generating enough revenue to successfully repay the loan and make a profit.
If recent "suggestions" that Murcia's San Javier Airport may NOT close ring true it looks unlikely.