Spain seeks to limit influence of regions overseas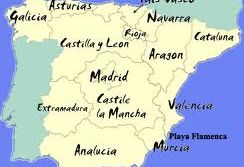 The Central Government has taken steps to limit the influence of the Autonomous Communities overseas.
The ruling PP administration aims to introduce a draft "Foreign Service and Action Law" with the goal of unifying the actions of Spanish Government concerning Foreign Policy.
The timing can be no coincidence, with the region of Catalonia threatening to seek international support for its independence drive, and with regional President Artur Mas speaking of his intention "internationalize the conflict" if either Madrid or the courts stand in the way of holding a sovereignty referendum.
Catalonia, Andalucia and the Basque Country have all refused to close their foreign offices and transfer employees to the nearest Spanish embassy in order to save money.
The regional government of Catalonia keeps a delegation in cities such as New York.
While the Foreign Ministry cannot prevent a regional leader from traveling abroad on an official visit, it will demand to be informed and in future "recommendations" will need to be sought regarding the convenience of the trip.
If such a recommendation is not requested, the government could withhold assistance from the relevant Spanish embassy. Any treaties or agreements between Spanish regions and foreign bodies will also have to be first approved by Madrid to ensure they do not overstep regional powers of self-rule.