Spain Economy Minister called as witness in Bankia case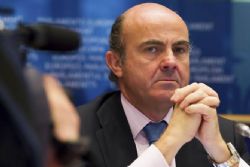 Spain's Economy Minister Luis de Guindos has been called as a witness in a legal probe into state-rescued bank Bankia, a legal source said on Friday.
A small political party, UPyD, forced the High Court in July to open an investigation into whether former chairman Rodrigo Rato, ousted when the bank was nationalised in May, and 32 other former board members are guilty of fraud, price-fixing or falsifying accounts.
The bank's current chairman Jose Ignacio Goirigolzarri and the former and current governors of the Bank of Spain will also be called as witnesses, the source said. The lawsuit centres around Bankia's stock market listing and its formation from 7savings banks.
Economy Minister de Guindos will give evidence to the judge on February 18, although because of his high government standing he will be able to give it in writing, the source said.
He is not named in the lawsuit but will be among a number of senior officials asked to give background on Bankia's listing and later rescue.
Bankia's ex-chairman Rato, a former finance minister and once head of the IMF, has already appeared in a private session before the judge in December, saying he was not to blame for what happened.
Investigating judge Fernando Andreu has yet to bring charges against anyone and could still drop the case if not enough evidence is found.