Iberia Airlines announce strike dates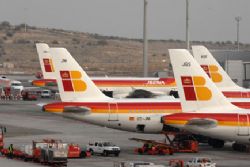 Employees of Spain's Iberia Airlines are due to hold intermittent strikes on a number of dates throughout February and March after another meeting with management ended earlier today without finding a resolution.
Unions were angered over the International Airlines Group's proposal to cut around 25% of their subsidiary company's workforce - around 4'500 in total - by 2015. Employees were also angered over plans to slash salaries.
The Unions have subsequently announced strike dates will take place from the 18th to the 22nd of February; the 4th to the 8th of March 4-8 , and the 18th to the 22nd of March.
The dates are thought to have been chosen to coincide with those of many UK school Holidays dates.