Bankia to speed up branch closures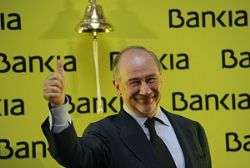 Nationalized bank Bankia said Monday it plans to speed up the process of branch closures as part of the slimming down of its operations required under the European bailout for the banking sector.
In a statement posted on its website, Bankia said it now plans to close 1,100 offices this year instead of spreading out the process over three years as initially planned. Bankia's restructuring also calls for the laying off of 4,500 workers.
"Although the original timeframe for the plan was 3 years, Bankia intends to accelerate the process and to complete almost all of it within one year, in order to stabilize the franchise and maintain the highest levels of customer service," the bank said.
Once the process is complete, Bankia will have around 2,000 branches, half the amount when the group BFA-Bankia was established in 2010 from the amalgam of seven savings banks, led by Caja Madrid.
"This restructuring is necessary to improve Bankia's efficiency and profitability, to ensure the viability of the project and the possibility of returning the state aid received," Bankia's chairman, José Ignacio Goirigolzarri, said. "With a network of 2,000 branches, Bankia will continue to have a presence across the whole of Spain and will preserve the jobs of 14,500 people."
Under a pre-agreement with labor unions, Bankia will offer compensation of 30 days' wages for every year in service up to a maximum of 22 months. The bank had initially offered 22 days with a maximum of 14 months.
Bankia will receive €18 billion of the some €40 billion the EU agreed to lend Spain to recapitalize banks that came unstuck due to their exposure to the floundering real estate sector.
The other banks were nationalized, with Banco de Valencia subsequently sold to CaixaBank for a nominal amount. On Friday, the Orderly Bank Restructuring Fund (FROB) announced that Banco CEISS, the lender that emerged from the merger of the savings banks Caja España and Caja Duero, would be nationalized and sold off after a valuation found it had negative net worth of €288 million. The state will first inject €604 million into the bank, which is likely to be sold at a loss to taxpayers.