Bankia hires Rothschilds to sell off assets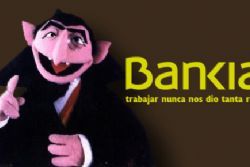 Bankia has hired Rothschild to help sell its stakes in companies including power group Iberdrola and insurer Mapfre, as the bank rebuilds its capital.
Bankia, which along with parent group BFA took €18 billion of EU aid last year, has to shrinks its business as a condition of the rescue.
"We have hired Rothschild for certain disposals," a spokesman for Bankia said on Friday.
The bank owns 12% of International Airlines Group (IAG), the company that combines UK airline British Airways and Spain's Iberia.
It also has 20% of technology group Indra, 27% of insurer Realia, almost 16% of NH Hoteles, 5.3% of Iberdrola and 15% of Mapfre.
Bankia, which has forecast losses of €19 billion for 2012, said in a November presentation that it would likely make provisions against losses on its company holdings of €4.3 billion. The bank revalued the holdings on its books to mark them down to market prices.
Bankia shares were down 8.3% on Friday morning at €0.37 at start of trade this morning, after closing down 12% on Thursday. The drop followed a warning by Spanish bank restructuring fund FROB that existing shareholders would be heavily diluted in an upcoming recapitalisation.