Vodafone in bid to buy Spain's Yoigo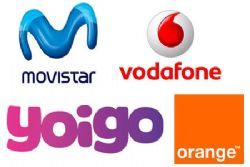 The Sunday Times has reported how Vodafone is preparing a takeover bid for Spanish mobile phone provider Yoigo.
The newspaper cites unnamed sources as saying Yoigo has 3.5 million subscribers and that it could fetch bids worth between €750 million and €1 billion.
Yoigo has been put back on the block by TeliaSonera, a Nordic telecommunications company, which shelved an auction of the business last year after bids fell short of its €1 billion target.
Vodafone faces competition from France Telecom - who operate Orange - and Spain's Telefonica for the company, the report said.
A Vodafone spokesman couldn't be immediately reached for comment.
A recent report on the Spanish Telecommunications sector by Industry regulator, the CMT, revealled how Spain lost 2.7 Million mobile connections in 2012 alone - forcing the industry into a price war.
The study also revealed how Yoigo, the smallest of Spain's 'big 4' providers, alone emerged victorious in increasing market share at the expense of Telefonic, Vodafone and to a lesser extent, Orange.
Over recent weeks Vodafone and Orange have both offered a variety of new tariffs in a bid to win back mobile phone connections, whilst Telefonica have shown their usual disdain for consumers.