Apple Spain see record turnover, record losses in 2012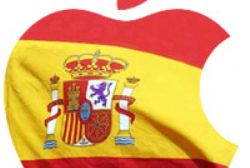 Technology giant Apple declared losses in Spain in the year to September 2012 despite record sales in the Spanish market.
The loss is a function of the manner in which the US firm books its sales - a process known as fiscal engineering, which is an arrangement that countries outside the United States are trying to crack down on. The vast majority of sales made in Spain are actually booked through Ireland, which has a much lower corporate tax rate.
Apple is not the only multinational to avail itself of such practices. Google Spain has also declared losses in the country over the past two years, despite posting turnover of hundreds of millions of euros.
The US firm's unit Apple Marketing Iberia's turnover in the year to September 2012 was €20.31 Mln. But since this consists of a commission of only one percent to facilitate sales, turnover generated by their other units in Spain amounted to a record €2 Bln.
Personnel costs reduced pretax profit to €6.5 mln. Its Apple Store retail network in Spain posted losses despite a rise in sales of 82% to €142 Mln. The combined loss of the 2 units was almost €12 Mln.