Spain needs new reforms : EU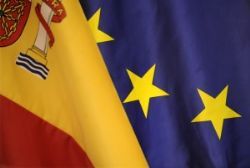 European authorities on Tuesday said the overhaul of the Spanish financial sector was on track but the government needs to implement more reforms, such as hiking its fuel tax, as the risks facing the economy remain high.
In their 2nd review of the programme Spain committed to in return for up to €100 billion of EU money last year, the European Commission and the ECB said they did not expect Spanish banks to require more than the €41.4 billion that have already been disbursed.
"The mission found that the programme, and more widely the reform of the financial sector, is on track... Overall, the reform momentum needs to be preserved as risks to the economy and the financial sector remain high," they said in a statement.
Among other reforms to boost its economy and keep its public finances under control, the EU said Spain still had scope to further limit the application of different reduced rates for the value added tax and to increase environmental taxes, most notably on fuel.
It also said the country's so-called bad bank needed a robust and credible business plan.
Madrid has so far met all the deadlines of the programme and has set up on time a "bad bank" called Sareb where toxic real estate assets from the banks can be parked to be later sold off. Yet many investors believe its business plan is still unclear.
"A sound business plan will be the foundation upon which the success of Sareb will rest, so it is of the utmost importance that this plan should be both robust and credible," the EU executive and the ECB said in the statement.