El Hierro Earthquake Swarm Resurfaces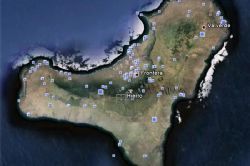 The Earthquake swarm that hit the Canary Island of El Hierro between June 2011 and March 2012 seems to have resurrected itself over the course of the last 24 Hours.
As of 21.00Hrs this evening, the website of the National Geological Institute (IGN) has reported in excess of 250 separate seismic activities have occurred on or around the Island.
The Earthquakes measured between 1.7 and 3.1 on the Richter scale, with the average being recorded at 2.5, and with depths varying from 11 to 34 km deep, but with the averages being at around 16km.
As with the previous earthquake swarm, which has slowed down considerably over recent months, the recorded epicentres were mainly towards the North and West of the Island.
Seismic activity is by no means unusual on El Hierro, which has a population of 10'000, due to being the most 'Volcanically active' of the Canary Islands with over 500 'Open Sky Volcano cones'. However, there has only ever been one recorded eruption of the largest 'Volcan de Lomo Negro'. That was in 1794 and the subsequent eruption lasted over 1 month.