Regional Gov't criticised over Castellon Airport race-track contract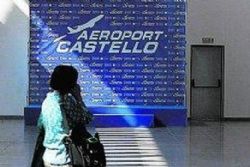 The PSPV representative to the Generalitat Valenciana, María José Salvador, today asked the regional government to clarify the "irregularities" concerning the permission granted earlier this year to allow a Formula 3 Racing Car team to hold trials at Castellon Airport.
The contract carries zero financial value.
Salvador also issues a statement revealing how the concession holders of the airport, Aerocas, allowed the racing team to hold tests in the grounds of the facility for 3 days, without charge, despite incurring costs of €3'630.
The Socialist went on to question why the Government claimed they were unaware of the arrangement, when a "contract" was drafted to permit the trials the day after it was reported in the press on January 21st this year.
"Nothing is as it appears", Salvador commented.
Carlos Fabra resigned his posistion as President of Aerocas this weekend due to him being called to stand trial on charges of tax irregularities, bribery, corruption and influence peddling.
Read further Castellon Airport news by clicking the link >> HERE <<.