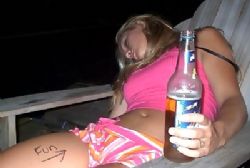 Lock up your Daughters, Grannies and household pets : Saloufest is back !
Now in its 11th year, Saloufest has in previous years attracted as many as 8'500 party-loving students from the UK for a "Sporting Tournament" in the usually sleepy town of Salou, Catalonia, for their Easter Break.
The event has become a tradional 2 weeks of debauchery and with just a token nod to the odd game of football, as students celebrate their Easter break.
However, 2013 is expected to break all records and see as many as 9'500 students attend the event, as for the first time it has been broken up into three week-long segments : Week 1 being 23-29 March; Week 2 1-8 April and week 3 being 8-14 April.
The local population tends to see oinion being split into two distinct and opposite camps : For one, there are those who are concerned that the cost and damage to the town - not least it's reputation - are too much to bear and that they should not be forced to pay to host such an event from the coffers of the Town Hall.
However, the alternative view by many - especially business owners - is that the event brings 100% capacity to the town for a solid 3 week period before the season begins. Many Bar owners note that takings during Saloufest are higher than the whole of August, which is usually popular with families who would traditionally spend less than partying students.
Although Saloufest might not be the kind of event or attraction that the Town hoped it would be host to, residents should be reminded that there are countless resorts up and down the Spanish Costas that would jump at the opportunity of increasing revenues and providing much needed employment for the locals.
This only seems to confirm the fact that Spain is becoming Europe's Playground , but taking the current Economic climate into consideration, is this such a bad thing ?.