Cameron to meet EU leaders to push reform plan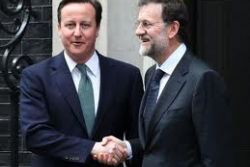 David Cameron hopes to overcome opposition to his plan to claw back power from Brussels when he meets the leaders of Germany, France and Spain this week for talks on Britain's future in the EU.
The UK's PM infuriated European allies in January when he said he would try to renegotiate terms of Britain's EU membership and ask voters in a referendum if they wanted to stay in the bloc.
France and Germany accused him of treating the EU like an "a la carte menu" from which he could pick powers. The opposition Labour Party said Britain risked sleepwalking towards EU exit.
Facing hostility to his policy across the continent, Cameron faces an uphill battle when he meets Spanish Prime Minister Mariano Rajoy in Madrid on Monday. He flies to Paris later that day to meet French President Francois Hollande before going to Germany on Friday for talks with Chancellor Angela Merkel.
Cameron will argue the euro zone crisis means it is inevitable that the EU will undergo big changes and reform its treaties, allowing Britain to forge a new role.
"This is not about cherry-picking, but to argue as some do that you can't have a flexible Europe is wrong," he said in a statement. "We can have a flexible Europe where we don't all have to do the same things in the same way at the same time."
Cameron will press the case for an EU in which countries have different roles. He will point to the fact that not all members, including Britain, signed up to the euro currency. London also stayed out of the border-free Schengen zone.
'RIPE FOR REFORM'
Cameron must come from behind in the polls, win re-election in 2015 and persuade EU leaders to allow him to reclaim powers from Brussels before British voters would have their say in a referendum on Europe.
The scale of his task was made clear in January when European politicians denounced his setpiece speech on Europe as unrealistic and divisive.
Seeking to take the initiative, Cameron will frame his case for reform as part of a wider appeal for the EU to become leaner and more competitive.
He will seek to win support in Europe with a call to reduce the bloc's spending and red tape.
"This organisation is ripe for reform," he said. "We need a Europe that is more open, that is more competitive, that is more flexible."
Cameron faces a dilemma over Europe. He believes Britain is stronger inside the bloc. However vocal anti-EU parliamentarians in his Conservative Party, who see Brussels as a threat to British sovereignty, want him to take a tougher line with the EU or leave altogether.
Pressure on Cameron over Europe has grown because the UK Independence Party, which wants Britain to exit the EU, has poached voters from his Conservatives. Disagreement over Europe plagued the last two Conservative governments under former prime ministers Margaret Thatcher and John Major.