Murcia President adds Water to Corvera and Paramount Cock-Ups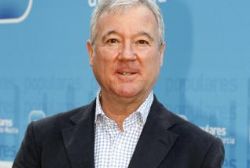 The spokesman for Murcia's IU-Verdes (United Left Green Party) has spoken of the "Surrender" of the region's water rights by President Valcarcel.
Jose Antonio Pujante went on to explain that the regional premier had effectively handed over all rights to withdraw water from the Tagus river basin to his counterpart in the region of Castile la Mancha, Maria Dolores de Cospedal.
Pujante went on to say how attempts to establish water rights had been executed in a clumsy fashion, and that the region's ruling PP had lied to the residents of Murcia in claiming that water was in plentiful supply.
Pujante finished by stating how "The fiasco with the region's water can be added to the further Corvera Airport and Paramount Them Park catastrophes that Valcarcel has Presided over".