Madrid protest violence ahead of Friday reform announcement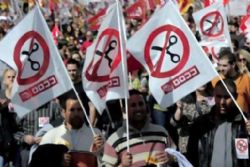 Police in the Spanish capital charged at protestors last night during an angry demonstration over the current state of the economy.
Emergency services said 29 demostrators and 13 Police officers were injured when the protest close to Parliament buildings in central Madrid tuned violent.
Around 1'000 demonstrators gathered outside the lower house of Parliament, callimng for the resignation of Politicians and senior lawmakers following news earlier yesterday that Spain's rate of unemployment had grown to record levels of 6.2 Million - 27.2% - without work.
Botlles and firecrackers were thrown at the Police as a number of protestors attempted to break the security lines to gain access to the building.
Police also announced that they had arrested 4 members of anarchist groups suspected of plotting to set fire to a bank and 11 people who blocked access to a university, ahead of the demonstration taking place.
Yesterday's protest is one in a long line of similar action stretching back 2 years, as the people vent their frustration at Spain's inability to escape the crisis.
Around 1,400 Police officers were present at the demonstration, after calls had been put out across the social networks for groups to lay seige to Parliament - some even calling for it to be stormed by protest groups. However, Spain's most well-known movement "los Indignados" - who staged the M15 occupation of Madrid's Puerto del Sol almost 2 years ago - distanced themselves from yesterday's activities.
Prime Minister Mariano Rajoy's is due to announced a further package of economic reforms later today.