On this day in history : Guernica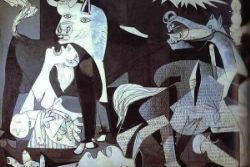 On the 27th of April 1937 the people of Guernica / Gernika in Northern Spain were struggling to comprehend the destruction of their Basque town the previous day.
The Civil War years saw the town largely support the Basques supporting the Republican Government of Spain, and in opposition to General Franco.
As such Franco called upon the support of Hitler's Luftwaffe, who seized the opportunity to stage a sustained attack on the town, in what was to become one of history's first aerial assaults, and a 'trial run' for similar attacks staged during the second world war.
Barely 2 months later Pablo Picasso had seized the moment to create one his most famous pieces of work - and perhaps history's most important and iconic works of propaganda to ensure that the rest of the world was aware of the atrocities.
Historians argue over the exact number of deaths sustained during the attack and as an immediate result of them, but what is generally agreed is that the town came to become an icon of propaganda against fascism in Europe.
The town today seems as much of a thriving Basque town as any other in the region and living memory of the event fades with every passing year. The painting "Guernica" can still be viewed at the Museo Reina Sofia in Madrid.