Spain says deficit reduction still top priority for economy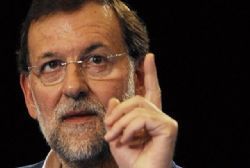 Spain's government may have toned down its rhetoric on austerity but its priority for the economy remains cutting the budget deficit rather than stimulating growth, a policy document showed.
"Spain's commitment to fiscal stability makes expansive fiscal policies impossible, meaning that growth stimulus will have to come from competitiveness gains," the paper detailing the country's new 3-year economic plan said.
With Europe's blessing, Madrid last week softened its deficit reduction targets up to 2016 in a bid to give breathing space to an economy that will shrink more than initially expected this year.
It also said it would focus on structural reforms rather than on nominal budget goals.
Through Europe's debt crisis, Spain has strictly implemented EU-mandated budget cuts, tax hikes and structural reforms, while watching its economy shrink and its sky-high unemployment rate rise further.
That makes it something of a test case in an increasingly fraught Europe-wide debate about how far to push austerity programmes at a time when economic growth remains elusive.
PM Mariano Rajoy, a strong advocate of austerity in his 1st year in power, has tried since February to find a middle way between the country's pro-austerity and pro-growth camps.
He has publicly teamed up with his French counterpart Francois Hollande in calling for more stimulus in Europe, and is due to meet new Italian PM Enrico Letta next week to discuss ways to reactivate growth.
But, in the 98-pages document released on Tuesday night after it was sent to the European Commission, Rajoy appeared to side more with German Chancellor Angela Merkel by committing to stick to tight fiscal policies.
The 3-year plan details new austerity measures worth €3 billion, generated mostly through taxes on energy and a reform of its employment policies.
"As an additional guarantee, if in September 2013 the government detects any slippage in budget execution, new budget measures would be adopted to meet the fiscal targets," it also says.
The same would apply up to 2016, with a double commitment to "automatically" pass new budget measures in case of deviation from the deficit-cutting path and to use any extra revenues generated for the state to cut the deficit rather than boost economic activity.
Spain's central government budget deficit was 1.63% of GDP in Q1, the economy ministry said on Tuesday, putting it on course to meet its 6.3% target for 2013.