Spain's cost of borrowing falls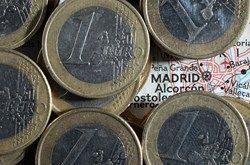 Spanish government bonds fell, pushing 10-year yields to the highest level this month, as demand declined when the nation sold a combined €4.57 billion of debt at an auction.
Longer maturities led declines as investors submitted bids for 1.62 times the amount of the 13-year securities sold today, down from 2.85 times at the previous auction in January. The so-called bid-to-cover ratio also dropped for 3 and 5 year notes. The 10-year yield fell to the lowest level in 3 years last week after the ECB cut its main refinancing rate to boost growth.
"The market is taking a breather, reflecting the fact that yields have fallen so much in recent weeks," said Pablo Zaragoza, a strategist at Banco Bilbao Vizcaya Argentaria SA in Madrid.
"There's a digestion effort, it's not the market losing confidence. The auctions were good, the top of the range target was surpassed and the rates were at lower levels than we have seen in recent auctions."
Spain's 10-year yield climbed 6 basis points, or 0.06 percentage point, to 4.16% at 10:37 a.m. London time, the highest level since April 29. The 5.4% bond due in January 2023 dropped 0.53, or €5.30 per 1,000-euro face amount, to 109.735.