Bank of Spain Debts Jump in March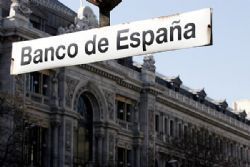 The Bank of Spain said Friday that bad loans held by the country's banks increased slightly in March, but remains well below an all-time high hit late last year, just before lenders started to transfer some problem loans to the country's "bad bank."
Non-performing loans stood at 10.5% of the total in March, compared with 10.4% in February and 11.4% in November. They amounted to €163.3 billion in March, a tad above €162 billion in February and well below €191.6 billion in November.
The decline in bad loans since November reflects the transfer of problem loans to the bad bank and a drop in demand for credit. Total loans shrank 12% in March to €1.559 trillion from the same month of 2012. Since the housing bubble burst in 2008, Spanish banks have transferred more than €60 billion worth of impaired assets to the bad bank.
Bad loans are, however, up ten-fold since 2007 - just before the start of Spain's economic crisis. The rise reflects an economy that has mostly been in recession since, high unemployment at 27% and a heavy debt load.