Spain's PP local election landslide : 2 years on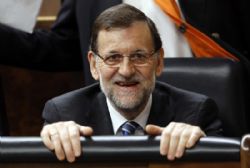 This past Thursday marked the 2 year anniversary since Spain held the regional and municipal elections, and resulted in the political landscape of the country changing overnight from red to blue. It also confirmed the fears of the then ruling socialist PSOE party : The county had grown tired of their failing attempts to rescue the economy.
By midnight on the 23rd of May 2011 it was clear that the predicted landslide victory in favour of the right-wing PP was going to be more decisive than originally expected.
When the count was finalised, the PP held 26 provinces (47% of the country), compared to the PSOE with 17, the CiU with 4, the EAH / PNV with 3 and Bildu with 1.
3'317 of the 8'112 municipalities voted in favour of the PP, with the over percentage of PP votes standing at 65%.
From the total number of 22,971,350 votes, 11,710,862 abstentions, 389,506 Nullified votes and 584'012 Blank votes, the PP received 8,474,031 votes and the PSOE 6.276,087.
The country clearly had an appetite for change.
Yet 2 years on from this does the PP still have the confidence of the people, and have they actually fulfilled any of their election promises ?
The PP's Election Manifesto of 2011 was perhaps nothing more than electioneering, with a total disregard to recognise the severity of the economic situation.
"We will not increase Taxes : Back in October 2011 the PP actually even promised to reduce taxes and increase pensions if they were voted into office.
"There shall be no cuts to education or health" : The manifesto even went on to mention a reform of the way in which school teachers were recruited.
"We will create jobs" : Rajoy spoke of job creation being encouraged by a series of reforms. Unemployment has continued to fall, currently standing at record levels of 27.2%.
"The Banking sector is healthy" : Repeated denials that Spain's Banking sector was in trouble ceased shortly before the whole "Bankia" debacle kicked off.
According to a recent poll of public opinion by Spain's Center for Sociological Investigation (CIS), public support for Mariano Rajoy has plummeted from 45% in May 2011 to 27% in May 2013. The study also found that if an election were to be held today the PP would poll less than 40% of the vote, compared to the 44.62% they polled at the elections. Meanwhile, the PSOE would poll 29.6%, meaning that the Izquierda Unida would be the main party to benefit from the PP's falling popularity.
Rajoy's popularity within his own party has also been called into question, with former PP Prime Minister Jose Maria Aznar publically criticising the policies of his successor.