Murcia Creates €25 Million Pot For Small Businesses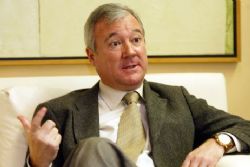 The autonomous community of Murcia has created a €25 Million funding pot to help small and medium sized businesses in the region.
Companies struggling to find investment or gain access to credit facilities can borrow up to €300,000 for a period of between 2 and 8 years, with preferential interest rates below market rates and repayments being offset by up to a year depending on the characteristics of the investment.
The funding was made possible by an agreement chaired by Ramón Luis Valcárcel and signed by the Credit and Finance Institute (ICREF) and Development Institute (Info), which creates 2 credit lines as announced in a previous State of the Region address.
Valcárcel pointed out these mechanisms "will boost economic activity which are compatible with the maintenance of a balanced public accounts and deficit control".
Throughout the global economic crisis, many countries across the globe were quick to identify that exports alone were not the only solution to drag themselves out of recession, but more over investment in small to medium sized businesses, in particular entrepreneurs and new business start ups.
Slow to follow the lead of other nations, Spain has eventually realised that they cannot survive on construction and tourism forever.
Valcarcel added, in this way, the government "fulfills its responsibility to implement mechanisms that encourage economic activity".