Corvera Airport : 2 years of 'nada'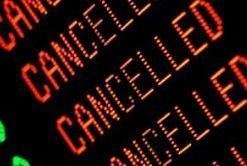 It is 2 years to the week since Tumbit mused on the subject of "Which airlines will fly into Corvera Airport ?" .
With the misplaced optimism of a giddy schoolchild, Tumbit blindly took all of the media hype at face value and launched into a series of largely hypothetical questions about what this would mean for the likes of Alicante's El-Altet Airport.
We sneered at El-Altet for splashing out on a costly and unnecessary new terminal building, when a newer, bigger and better Corvera Airport was clearly about to steal all their passengers.
Reading back on the news story it is clear how much and yet how little has actually changed in those 2 years : notably a similar degree of confusion in existence surrounding the Paramount Theme Park at neighbouring Alhama de Murcia.
The only thing to be learned from this is a degree of measured caution when attempting to write a news article, and maybe just a hint of optimism that things will have moved on slightly when we revisit the subject in another 2 years time.
Recommended Reading
• An Idiots Guide to Airports in Spain
• Paramount Murcia : Entire News Archive
• Corvera Airport : Entire News Archive