Spain's rescued banks get more aid from deposit guarantee fund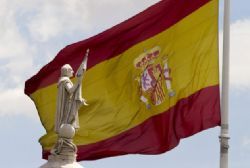 Spain's Deposit Guarantee Fund, set up to protect depositors, has spent just over €1.8 billion helping to compensate small investors who lost money in 2 of the country's rescued banks, the Bank of Spain said on Thursday.
The Deposit Guarantee Fund, or FGD, primarily designed to shield deposits of €100,000 or less and backed by Spain's healthy banks, will take minority stakes in the 2 lenders as a result of the deal.
As part of a €41 billion rescue of Spanish banks last year with European funds, customers at bailed-out banks, with investments in risky products such subordinated debt, were forced to convert these into shares, at varying discounts.
But banks like NCG Banco and Catalunya Banc were not publicly listed so the government is using the guarantee fund to buy out their shares instead.
Spain's sound banks had to cough up an extra €2 billion in contributions this year to the FGD to pay for the scheme. The FGD had €3.8 billion in assets at the end of 2012.
The plan will leave the FGD exposed to 2 of the banks that had to be bailed out after Spain's property crash and which are likely to come up for auction later this year.
It will have a 26% stake in Galician lender NCG Banco - after spending €802 million cashing out investors - and 32.5% of Barcelona-based Catalanya Banc, the Bank of Spain said.
The 2 banks have between them already received €21 billion in European funds and aid from Spain's bank restructuring fund FROB.