UK PM Cameron Defiant on Gibraltar Day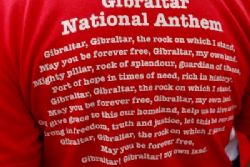 In a message of support and celebration, UK Prime Minster David Cameron has praised the enormous dignity shown by the people of Gibraltar on their national day.
Speaking via video link, Cameron said the government and people of Britain "stand with you now" over mounting pressure exerted by its Iberian neighbour Spain.
"Gibraltar has been British for 300 years. Let's keep it that way" he added.
The National Day of Gibraltar commemorates the anniversary of the first referendum on British Citizenship held on the tiny overseas territory, in which an overwhelming 99% majority voted to remain British.
"Britain and Gibraltar have a long and proud history. For 300 years we have stood together, as one with our shared sovereign. Today your flag flies over the Foreign Office in London" Cameron said.
"On this Gibraltar National Day, the British Government wholeheartedly supports your right to determine your political future. As I have said before, we will never agree to any transfer of sovereignty - or even start a process of negotiation of sovereignty - without your consent. And I wouldn't want us ever to go down that route. Gibraltar has been British for 300 years. Let's keep it that way."
Following months of tight border controls by Spanish border authorities, a team of EU inspectors are due to visit the frontier between Spain and Gibraltar following a request from David Cameron himself.
The latest spat was triggered after Gibraltar dropped concrete blocks into territorial waters to promote reef life and replenish depleted fish stocks. A move which Spain vehemently denies claiming it was solely to prevent Spanish fishermen from fishing there.
Since the current PP conservative Spanish government came to power in 2011, relations between Gibraltar and Spain came crashing down after Rajoy ceased trilateral discussions and instead insisted only speaking with London. Incursions into Gibraltar territorial waters by Spanish Naval vessels also began.
Eager to calm tensions and the rhetoric coming out of Madrid, Mr Cameron said: "As we celebrate today, let us all remember that Spain is our neighbour and thousands of Spanish people are welcomed by you to work in Gibraltar. I know many of you have close family and friends in Spain. The world is an unstable place; Gibraltar is not."
It has been widely accepted by worldwide political powers, nations and social media that Spain's aggression towards Gibraltar is a diversionary tactic to steer the attention of the Spanish public away from its economic problems and corruption scandals which have engulfed the Spanish government and in particular Spanish Prime Minster Mariano Rajoy himself.