Spain gives €84.195 bln aid to financial sector in 2011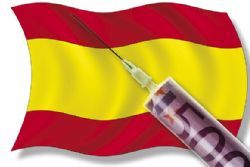 Spanish banks received a total of €84.195 billion of public aid in 2011 to combat the crisis affecting the sector, Spain's National Competition Commission reported on Tuesday.
The figure was almost 94.5% of the total public aid injected by the public sector that year (€89.162 billion), which represented 7.84%of Spain's GDP.
Each Spaniard paid €1,781.3 to reorganize Spain's financial entities, said the Commission.
In annual terms, the amount received by the Spanish banking sector decreased by €4.967 billion between 2010 and 2011, from €89.162 billion to €84.195 billion, the Commission reported.
A year later, in June 2012, the Spanish government asked for financial aid from the EU in order to recapitalize its baking system.
The EU gave Spain €37 billion to recapitalize the EU's so-called first group of banks (including Spain's nationalized entities, Bankia, Catalunya Caixa, Banco de Valencia and NovaGalicia Banco) and €1.865 billion for the EU's so-called second group: Liberbank, Caja3, BMN and CEISS.