Valencia : 49 Earthquakes in past 48 hours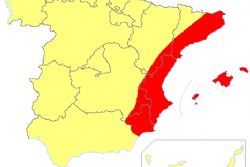 Spain's National Geographic Institute (IGN) has reported how a total of 49 seismic activities have taken place in the Gulf of Valencia in the past 48 Hours.
The tremors, which all had epicenters around 70km off the coast North-West of the city of Valencia, ranged from 1.5 to 2.7 on the Richter scale, and at recorded depths of between 1 and 22km.
The Eastern Coast of Spain is no stranger to small earthquakes, being situated where the North African and European plates meet. The majority of these seismic activities pass by unnoticed, with just a small percentage being felt by residents on the surface.
Whilst there is no evidence or suggestion that this is anything other than typical seismic activity, it does perhaps pose the question how the Eastern Coast of Spain is exposed to the possible occurrence of a Tsunami.