Spain protests over 'demotion' of Catalan language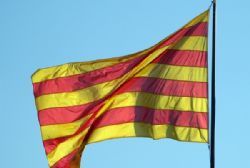 Mass protests took place across the Balearic Islands on Sunday as the stand-off between the education sector and the regional Partido Popular government over an imposed trilingual learning model threatened to spill over into a third week. a trilingual learning model imposed by premier José Ramón Bauzá has demoted the vehicular language, Catalan, in classrooms in favor of English. Spanish is also taught.
The protests were joined on this occasion by a large congregation in Barcelona, where the Balearic PP's unilateral decision to demote Catalan in classrooms in favor of English also incited disapproval. Since the start of the school year in the Balearics region many classrooms have stood empty as both teachers and parents refuse to bow to the PP's imposed reform. A number of unions have pledged to maintain the strike indefinitely until the decision is reversed, while public support has been considerable.
Turnout for Sunday's demonstrations were described by unions to be "historic" in scale. An estimated 110,000 people took to the streets on the islands of Mallorca, Ibiza, Menorca and Formentera out of a total Balearic population of 1.1 million.