Spanish Banks "Well Equipped for Stress Test" : ECB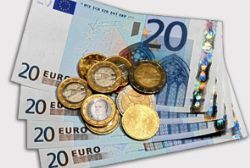 European Central Bank (ECB) President Mario Draghi said on Wednesday that Spain's banks are well placed to pass the new stress tests they will be subjected to along with other European lenders.
"Everything seems to suggest that Spain will approach this exercise well equipped, but, of course, it's very difficult to guess at this point in time what can happen at individual banks,"
Draghi told a news conference after the ECB's monthly monetary policy committee meeting at which it decided to maintain the key lending rate in the euro zone at 0.50%%.
Draghi was speaking in response to a question on whether further measures for Spain's banks would be needed after the restructuring of the sector with a 41-billion-euro bailout from the European Stability Mechanism. Under the restructuring process, nationalized banks were recapitalized and toxic assets related to the ailing real estate sector were transferred to a bad bank, which is now in the process of selling them off.
"The program in Spain is judged to be on track. The actions that have been undertaken have been considered adequate. The recapitalization plans have been undertaken. The assets have been transferred and are in the process of being sold [and] actually are being sold already," Draghi said.
Draghi said the stress tests to be carried out next year would be "credible, transparent and rigorous."