State Run AENA Spends Almost One Million Euros on Company Cars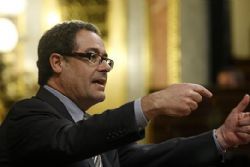 Spanish state owned airport authority AENA spends almost ONE MILLION EUROS a year on company cars for its top managers and executives figures reveal.
MP for the CiU party, Pere Macías, revealed in parliament how AENA spends €863,000 on 83 chauffeur driven and company cars despite making 10% of it's staff redundant last year and being in debt by more than €12.5 BILLION.
Criticising the lack of control and the organisation make up of AENA, Macías said "It's board of directors are acting as though it were a privately-run company, with all the privileges and lack of accountability that goes with it".
Of the 83 vehicles, AENA only owns 3 of them, whereas the rest are rental or lease vehicles. Each vehicle costs between €10,000 to €15,000 a year in costs relating to rental, repairs, maintenance and insurance.
Whilst the vehicles would not necessary be deemed as luxury, they are high spec with a host of optional extras, with some even having leather interior. Models include Audi A6 and A4's, Ford Mondeos, Opel Insignias, Peugeots, Rénaults, Toyota Avensis, VW Golf and Passats as well as Volvos.
The state airports operator also spends more than €65,000 on what it calls 'safety drivers', however it is unclear for what purpose.
Earlier this year AENA, which is public funded, took control of TWO international airports, the UK's Luton Airport from Abertis in a joint venture deal with AXA, followed by Cali Airport in Columbia in a further joint venture with Abertis. AENA now controls 31 airports outside of Spain.
Closer to home, AENA is set to take control of troubled Corvera Airport after Aeromur, the private consortium behind the delayed airport, were booted off site and had their operator contracts terminated.
Macías, a Catalan politician from Girona, asked whether AENA intends to make savings on the cost of company cars, however AENA defended its position saying these were part of their management team members' salaries which they were taxed upon including paying Social Security.
Recommended Reading
• AENA purchases 2nd Airport in as many days
• AENA Ready to Take Control of Corvera Airport