Busy tourist season nudges Spanish unemployment lower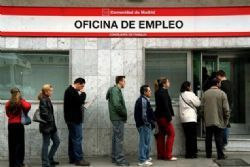 Spain's unemployment rate fell from Q2 to Q3, data showed on Thursday, with a busy tourist season giving a lift to the country's dire labour market.
The unemployment rate between July and September was 26%, compared to a Reuters poll of 26.1%and 26.3% a quarter earlier, with some 5.9 million people out of work, the National Statistics Institute (INE) said.
The figures also showed the number of people holding jobs rose to 16.8 million, the second straight quarterly increase though still a long way from the 20.4 million who were in work at the beginning of 2008.
Joblessness has soared in Spain since a property bubble burst in 2008 and the country entered a 5-year economic slump.
Just under a third of all people out of work in the euro zone live in Spain, which has the 2nd-highest unemployment rate in the 17-country bloc after Greece.
A strong tourist season, with political unrest deterring many sunseekers from visiting North Africa and the Middle East, has helped boost Spain's labour market over the summer, though this effect is likely to peter out by Q4.
The government has hailed a probable return to growth in Q3 as the beginning of the end of the economic crisis and said it expects net job creation by 2014.
Market confidence has also grown.
The country's blue-chip IBEX share index has risen around 20% in the first ten months of the year, and earlier this week, Microsoft co-founder Bill Gates joined other foreign investors in buying significant stakes in Spanish companies.
JOB CREATION ?
But the fragile recovery is dependent on a booming export sector while domestic demand continues to shrink, triggering concerns that a sustainable reduction in the unemployment rate may take years.
"Growth will come from sectors less labour-intensive than the construction sector and, per unit of growth, you're going to generate less employment," said Ruben Segura-Cayuela, an economist at Bank of America/Merrill Lynch.
"But you also had a labour market reform and the job creation threshold now is economic growth of something between 1.0 - 1.5%. That means that even in the most optimistic scenario, we're not seeing net job creation next year."
Spain's government expects the economy to grow 0.7% in 2014 after contracting 1.3% this year.
Spanish companies, including household names, are still going bankrupt at a record rate, adding to already straining unemployment lines.
Last week, consumer appliance company Fagor filed for protection from creditors as it struggles to refinance its debt, putting almost 6,000 jobs at risk, while problems at doughnut baker Panrico have put some 2,000 more in jeopardy.
Many economists point out that finding suitable jobs for Spain's legions of long-term unemployed will be hard, while the gap between difficult-to-fire workers holding permanent contracts and those on temporary deals with few rights keeps growing.
According to Thursday's data, some 3.2 million unemployed have been out of work for a year or more, while there are just over 1.8 million households in which all its members are unemployed, fuelling deepening inequality.
It was barely 6 weeks ago that Minister for the Economy, Luis de Guindos, announced how Spain's recent fall in unemployment numbers 'was not seasonal' . Lets wait and see what the figures for Q4 bring...