Could Murcia Reappoint Aeromur to Operate Corvera Airport?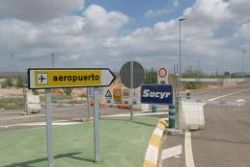 The outcome of negations between the Regional Government of Murcia and Sacyr concerning the termination of contracts at Corvera Airport are still unclear.
According to Government sources, the Region is sill uncertain as to the likely result, but are still open to reaching an agreement.
For their part, Sacyr affirmed that they too were hoping to that the negotiations would be successful, but declined to speculate on the likely outcome, or of the value of any suggested compensation payments.
Last Wednesday also marked the date when time elapsed whereby Sacyr could file an appeal with the High Court against the Region's proposal to take full control of the Airport.
The Directorate of Legal Services will now present its case before the Board of Administrative to allow it fully legalise the termination of the contract between the Regional Government and Sacyr - the majority shareholder behind the Airport's former concession holder, Aeromur.
Meanwhile, the Ministry of Public Works, is finalizing the details in order to appoint a successor to Aeromur as operator of Corvera Airport. The Regional Government holds that this will be a much easier prospect as soon as Aeromur no longer occupies the airport.
Under these circumstances, it has been speculated that Sacyr could once again take charge of the airport when faced with the two alternatives : 1.) State run AENA, or a 3rd party, takes control of the facility, or 2.) The Regions is absolved of all financial losses at the Corvera, under which circumstances the facility will be 'sold' for next to nothing.
The outcome of the negotiation stands on the decision of the financial institutions which lent the €200 Mln, and whether they would be willing to renegotiate the terms to suit both the Regional Government and Sacyr, whilst allowing the facility to move forward and become operational and the soonest possibility.