Spain Caixabank to issue bonds exchangeable for Repsol shares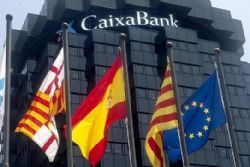 Spain's Caixabank said on Monday it would issue €620 Mln worth of 3-year bonds exchangeable for shares in Spanish oil major Repsol.
Caixabank, which has a 12.02% stake in Repsol, said when the issue matures it will pay back bondholders in shares worth up to a maximum 2.5% of Repsol's market capitalisation, or cash, or a combination of the two.
If exchanged, Caixabank's position in Repsol would fall by as much as 2.5%, the company said in a statement to the stock exchange regulator.
Like other Spanish banks, Caixabank is beefing up its capital ahead of a Europe-wide review of lenders' assets next year.
The deal will increase Caixabank's core capital ratio by 37 basis points under stricter "fully-loaded" Basel III criteria, which factors in changes that have to be made by 2019. The ratio currently stands at 8.3%.